Optimally designed for low profile high precise arc applications.
PBA ARC Series is specifically designed for angular motion with constrained Arc motion, 360 degrees or multi-turn rotation motion. Powered by high-torque low-profile Ironless arc motors, the PBA ARC Series Motor can be arranged in a large centre hole of up to 1504 mm wide. Coupled with large-diameter circular encoder scale and arc or angular bearings PBA ACR Series motor can achieve exceptionally smooth, precise motion with higher accuracy & repeatability.
Higher Torque Direct-Drive Ironless Motor
Low-Profile Form Factor with Low Mass
Large Clear Aperture
Arc Motion, 360 Degree or Multi-Turn Rotation Motion
Zero Cogging and Exceptionally Smooth, Precise Motion
Fast Dynamic Response
High Positional Repeatability and Accuracy
High Speed and Acceleration
Zero Backlash
Integrated Hall Sensor and Temperature Sensor
Flexible Configuration with Multiple Coils And Multiple Tracks
Easy Assembly
Suitable Application
Semiconductor machine
Wafer processing and inspection equipment
Photonics
Biomedical equipment
Precision positioning stages
Lithium battery production
Laser processing machines
Printing machines
Configurations
PBA ARC motors allow customers to configure the setup based on their needs. From multiple coils to increase torque output, or multiple tracks to increase range of motion. PBA ARC motors can accomplish up to 360 degrees of rotation.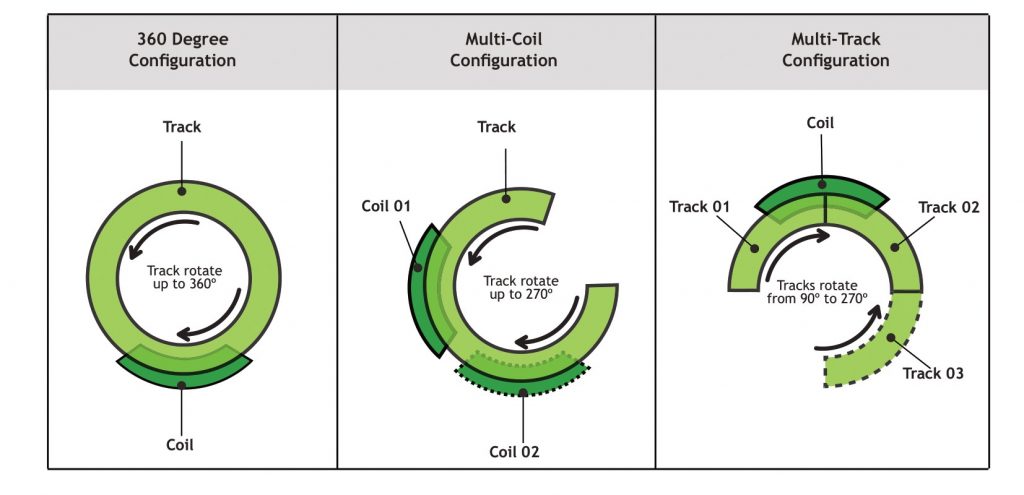 PBA Systems – High-Performance Ironless ARC Motor